A YMCA educator took inspiration from others, and focused on community support after a life-altering injury. Though some might begin a recovery journey with self–reflection or self-pity, Michele Bugeja's positivity and gratitude sparked the concept of a children's book she authored: 
Essential Workers ABCs!
Michele is a YMCA Child Care team member and a Registered Early Childhood Educator (RECE) from Milton. Michele's daughter, Liliana Di Leo illustrated the book. Together, they share their appreciation for the community, Michele's coworkers, and essential workers in every page.
Michele's journey at the Y
Michele started working at YMCA Child Care as an Early Childhood Assistant (ECA) in January 2015. She then completed her apprenticeship program with the YMCA and successfully gained her credential as a Registered Early Childhood Educator (RECE).
The breakthrough
In the spring of 2021, while was recovering from her arm injury and off from work, she often found herself wondering: How can we give back? How can we really show that we appreciate all of these people we have come across?
And that's when the idea of creating a children's book started shaping up.
When Liliana, a 16-year-old volunteer at the 
Milton St. Benedict YMCA
 with a passion for illustration, considered her mom's book concept her creative vision came to life.
I can see it in my mind, the vision coming together, like each character in the book.
All characters in the book are true representations of people Michele and Liliana encountered while working on Michele's recovery.
"It took us about four months working on it. And then when I went back to work in September, I presented the book to my director," Michele says. "And I would have been happy to laminate these pages and share them with the children in my program." The YMCA centre director was so impressed by the concept and illustrations, she responded:
This could be something bigger.
A supportive work environment
Bugeja credits her former supervisor, Cristina Fiorella, for encouraging her to join the Early Childhood Educator (ECE) Apprenticeship program at the YMCA. She also credits her mentors and coworkers for seeing the potential of her book and supporting her vision to distribute it to a larger audience.
Michele is delighted to be a children's book author. "It was just so exciting and it was so satisfying because this project, for us, really came from the heart," Michele says. "It was just something we really believed in and...everyone at the YMCA was so supportive."
When children read her book and review the illustrations, Michele hopes they will understand the importance of essential workers and every community member; whether it's a grocery store worker or the person delivering your mail. "You can't face this world, with all the terrible things that are happening, alone," she says. "You need other people, right?"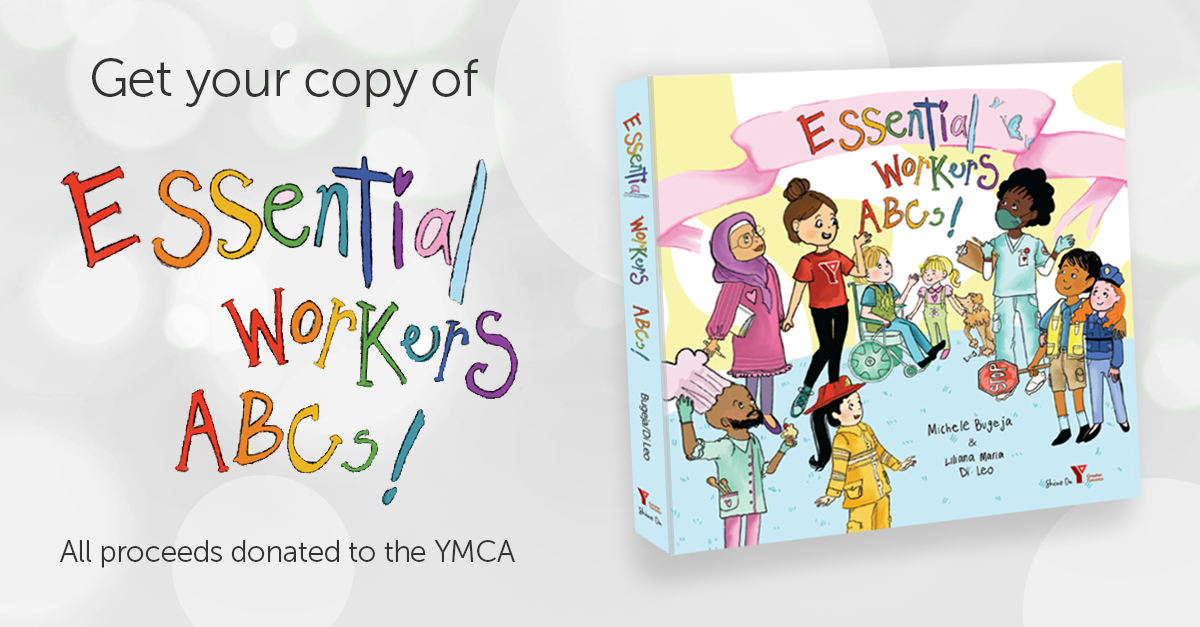 Essential Workers ABCs
!
is 
a children's board book, 
available for purchase
 for a limited
 time
. 
All 
proceeds
 go
 directly
 to 
the 
YMCA of Greater Toronto
.