Pictured above: Y4E Media Contest Finalists, from left to right: Rishivansh Acharjee, Second Prize Video; Simon Keleta, Third Prize Poster; Victoria Feng, First Prize Poster; Danya Knowles and Rose Schoonhoven, Third 3rd Prize Video; Alex Shibu, First Prize Video and Second Prize Poster
On November 14, we kicked off Global Entrepreneurship Week 2022 with a special awards gala to celebrate the winners of the Youth for Entrepreneurship (Y4E) Media Contest.
What is Y4E?
The Y4E program, powered by Desjardins, consists of a series of free workshops designed to empower young people with the practical knowledge and digital skills they need to start their business journey.
"We just launched this program at the end of June, and it's very hands-on," says Adela Colhon, General Manager, National Programs at the YMCA of Greater Toronto, who oversees Y4E. "There are over 60 workshops available, and they are focused on five themes: foundational knowledge and inspiration, entrepreneurship opportunities, digital literacy, financial know-how, and marketing and social media."
Open to youth ages 15–24, Y4E is offered across five provinces — Alberta, British Columbia, Ontario, Nova Scotia, and New Brunswick — and already has over 2,000 participants to date.
The Y4E Media Contest
This fall, youth ages 18–24 were invited to participate in the exciting Y4E Media Contest to raise awareness on youth entrepreneurship and the resources available to support entrepreneurs in Canada. With a chance to win one of six award prizes between $200 and $1,000, a talented, creative pool of contestants crafted videos and posters that encouraged young people to start their own business or innovate for climate change.
We're so grateful to our contest jury members — the complete list of which you can see at the end of this post — for volunteering their time and expertise to judge this contest.
We're thrilled to introduce the outstanding winners of the Y4E Media Contest and their inspiring projects! You can check out the winning videos and posters on our website.
Winning videos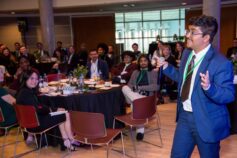 Alex Shibu, first place prize winner for video and poster
First Prize | $1,000: Alex Shibu, Ontario
"I've never made a video like this before," says Alex, who described his process to friendly laughter and applause. "I started, then I got COVID and had to stop, then I started again. I had to learn new things if I wanted to include them in the video. At one point, you'll see me knitting. I had to first watch a video and learn how to knit!"
Second Prize | $700: Rishivansh Acharjee, British Columbia
Third Prize | $400: Danya Knowles and Rose Schoonhoven, Nova Scotia
Winning posters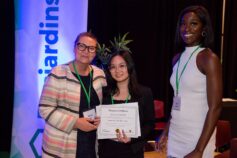 From left to right: Mirela Pirlea, Lead Partnerships Innovation and Entrepreneurship Ecosystems, Desjardins; Victoria Feng, first place prize winner for poster; Sufiat Fusigboye, Member of the YMCA of Greater Toronto Youth Advisory Council.
First Prize | $500: Victoria Feng, Ontario
"This was my first time making a poster for a contest," says Victoria, who shared her admiration for the program and gratitude for the support she received. "The Y4E workshop led by Danica Ricamara really helped me think through my own point of view related to the environment and entrepreneurship and how to express it in the poster."
Second Prize | $300: Alex Shibu, Ontario
Third Prize | $200: Simon Keleta, Ontario
---
"I'd like to say a big thank you to each and every one of our contestants for raising awareness of entrepreneurship among your peers," says Lesley Davidson, Chief Operations Officer at the YMCA of Greater Toronto.
"All of you, at some point, are going to make decisions about your future: about post-secondary education and your career paths. I want every young person to know that entrepreneurship, innovation and design, founding your own venture, or developing a new and creative solution to a problem facing our communities — this is a viable pathway to a successful career for you. And your community needs you to be imaginative for many reasons, including protecting the environment and working together for a more equitable society."
Thank you to Desjardins, our long-time partner and supporter
We're so grateful to Desjardins for powering the Y4E program and contest through the Desjardins Foundation. Alongside their generous funding, our friends at Desjardins invested in co-creating this program with the Y team. Special thanks to Marilyn Horrick, Mirela Pirlea, and Richard Chong, who have embodied the entrepreneurial spirit and cooperative attitudes we're eager to see in today's young leaders.
We're so excited to continue partnering with Desjardins and empowering youth with innovative supports and services to help them reach their true potential.
Celebrating Financial Literacy Month in Canada
Understanding your personal finances is key if you want to start your own business. As November is Financial Literacy Month in Canada, it's the perfect time to highlight another YMCA-Desjardins collaboration: the Personal Finance: I'm in Charge financial literacy program.
"One thing we've learned at Desjardins in our 123-year history is that collaboration is essential," says Marilyn Horrick, Senior Vice President, Ontario Market, Growth, Acquisitions and Development, Desjardins.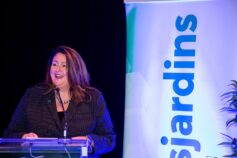 Marilyn Horrick, Senior Vice President, Ontario Market, Growth, Acquisitions and Development, Desjardins congratulates our contest winners at Monday evening's awards gala.
"In order to improve the economic and social well-being of people and their communities we need to work together, which is why we are proud to be working alongside the YMCA of Greater Toronto to financially empower youth. The Personal Finance: I'm in Charge program aims to equip young adults with the tools and knowledge they need to plan their financial future with confidence."
In this program, you can attend workshops online and in-person year-round to learn about managing your money and setting yourself up for success. It's a great compliment to the Y4E workshops that are also still running this month.
We hope you continue to invest in yourself and your future by joining us for some of these workshops, co-created by the Y and Desjardins! Visit our website to see the schedule.
Our gratitude to the contest jury for the Y4E Media Contest, powered By Desjardins
The following entrepreneurs and leaders volunteered to judge the Y4E Media Contest and we couldn't be more grateful!
Renee Beneteau
Vice President, Philanthropy
YMCA of Greater Toronto
Adam Ladovsky
Assistant Director
Innovation & wavespace™ Canada
Sisa Lleses
User Experience Lead, NeedsList
Product Designer & Co-Founder, Design Off The Boat
Lianne Newman
Interim Associate Director, Strategic Planning and Enterprise Partnerships
Toronto Metropolitan University
Ellis Odynn
Technology Consultant, EY
Executive Director, Digital Finance Institute
Biju Pappachan
Executive Director
POV Film
Mirela Pirlea
Lead Partnerships Innovation and Entrepreneurship Ontario-Atlantic-West Canada
Desjardins