YMCA OF GREATER TORONTO | YOUTH PROGRAMS
Personal Finance: I'm In Charge
Dear future me - this ongoing financial literacy series has set me up for success! It's about being my best. About me enjoying life and being in charge. Planning my education. Signing a cellphone contract. I've got tips and tricks to save money and eat well. I see myself finding an apartment and paying my rent. Credit savvy and spending wisely.
It's an investment thing. And it's about more than money.
Treat your future self to a FREE online workshop on these topics and more.
A Best-Self Financial Literacy Series for Young People
Dear Future Me is a virtual and in-person series of interactive workshops by the YMCA of Greater Toronto, powered by Desjardins. Treat your future self to a free workshop, including a chance to win prizes. Gain a Certificate of Completion. View Workshop Calendar for quick and easy registration.
Workshops cover a variety of topics, activities and hands-on exercises. Topics easily relate to everyday life, including:
Transportation
Education
Buying and saving
Food
Finding an apartment
Cellphones
Investment
Credit
You can view the workshop descriptions on this page below the calendar section
Bring our workshops to your group or school
We also deliver free tailored workshops to youth through community groups and schools.
Learn more or contact Partner@YMCAGTA.ORG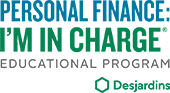 Upcoming Workshops Calendar
Benefit from a wide range of financial literacy workshops – click on the workshop title on the calendar and register now!
Workshop Descriptions
Transportation: On the right track
Explore the myths, realities and costs of different means of transportation and choose the one that's right for you and your budget
Identify the factors that influence the type of transportation you take
Education: An investment for your future
Learn how to plan for your education
Explore and determine ways to pay for it
Learn about different grants, scholarships and student loans
Buying and Saving: How to make room for both!
Learn the key considerations of a well-planned purchase
Explore different ways to save
Identify the key aspects of being a responsible consumer and the specific role that savings plays in your life and goals
Food: Tips and Tricks to Save
Factor the cost of food into your budget
Spot the marketing strategies used in supermarkets
Find cheaper alternatives and ways to save
Finding an Apartment: Your Key Considerations
Learn about how to find a place to live
Evaluate different housing options according to your needs, your lifestyle and your ability to pay
Learn about the lease and a rental agreement
Cellphones: Getting a clearer picture
Know what to consider when shopping for and using a cellphone
Learn how to assess your needs based on your ability to pay and the available plans
Investment: Investing is about more than making money!
Understand the impacts of the financial choices you make
Start thinking about how to choose investments based on your profile and future plans
Credit: The more you know, the better
Understand how credit works, how it fits into a budget and how to use it responsibly
Learn about different types of credit cards, what they cost and how they work